Kurume Kasuri: a future-proof tradition
Uncovering Hirokawa's unique textile legacy
Words & images by Aki Watanuki

Until recently, my knowledge of Japanese textiles was limited to two types of traditional fabrics: Nishijin-Ori (a splendidly coloured fabric using a jacquard technique) and more sober materials such as Kasuri, Shibori and Boro (old Japanese fabrics looking almost like almost rugs). The latter was of particular interest to me.

However, during my first visit to Hirokawa in 2019, I discovered that the traditional Kurume Kasuri - a kind of textile that until then I had only encountered in flea markets - was still produced in the region. Around twenty workshops were still active in the sole Hirokawa. Suddenly, I found myself surrounded by contemporary Kasuri pieces, the results of a fusion of artisanal work and industrial methods.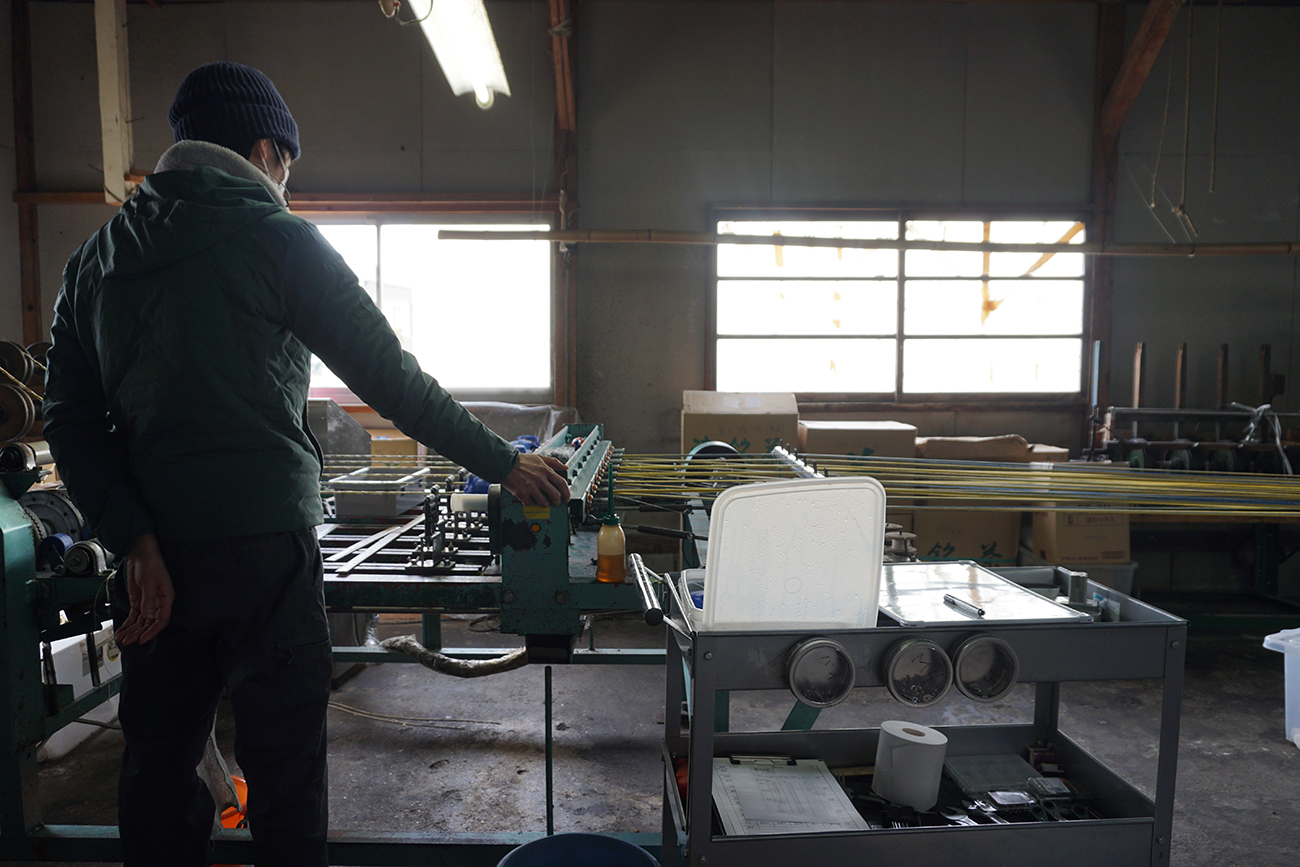 An
artisan creates bundled yarns (kukuri technique) using vintage machines
There is something magical behind the process of creating the characteristic "blurred pattern" of the Kurume Kasuri. I define it as magical because, unlike for other textiles, the pattern is not printed after the yarns have been woven. It takes shape slowly throughout the weaving process by crossing the warp and the weft, the threads of which have been tied and partially dyed in advance according to an ancient technique from Indonesia called ikat. As a result, the pattern's outlines are not well defined; thus, the "blurred pattern". The realisation of the Kurume Kasuri requires time, a great deal of know-how and extreme precision: elements that suppose the definition of a plan and precise calculations beforehand. I love how one can read the traces of craftsmen's hands, as well as Japanese culture and aesthetics, in this typical "blurred pattern".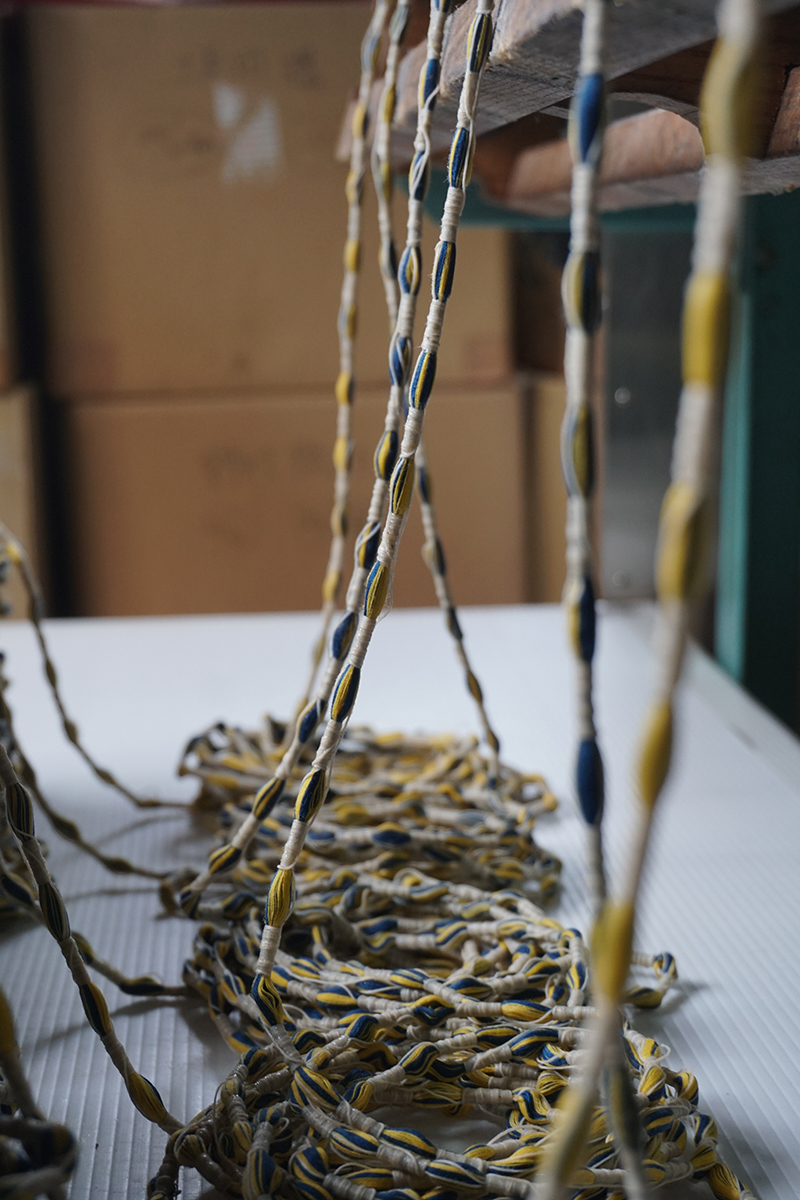 Left: At Nomura Masanori Orimono, fabrics are hanged after soaking as a final treatment process

Right: Bundled yarns at a local workshop
Kasuri (whose standard width is 38 cm) was initially designed to realise Kimonos - each of the fabric sections composing the traditional Japanese costume measuring precisely 38 cm. In recent decades, however, the interest in this technique declined. Despite this decline - which coincides with the adoption of Western clothing style in Japan - several traditional creative workshops still coexist today with semi-industrial production.

One can witness this hybridisation in some of the production processes still carried out entirely by hand and in the use of vintage motorised looms produced by Toyota around 70 years ago! It is to this precise model of loom that Kasuri owes its characteristic texture: at the same time soft, breathable and permeable.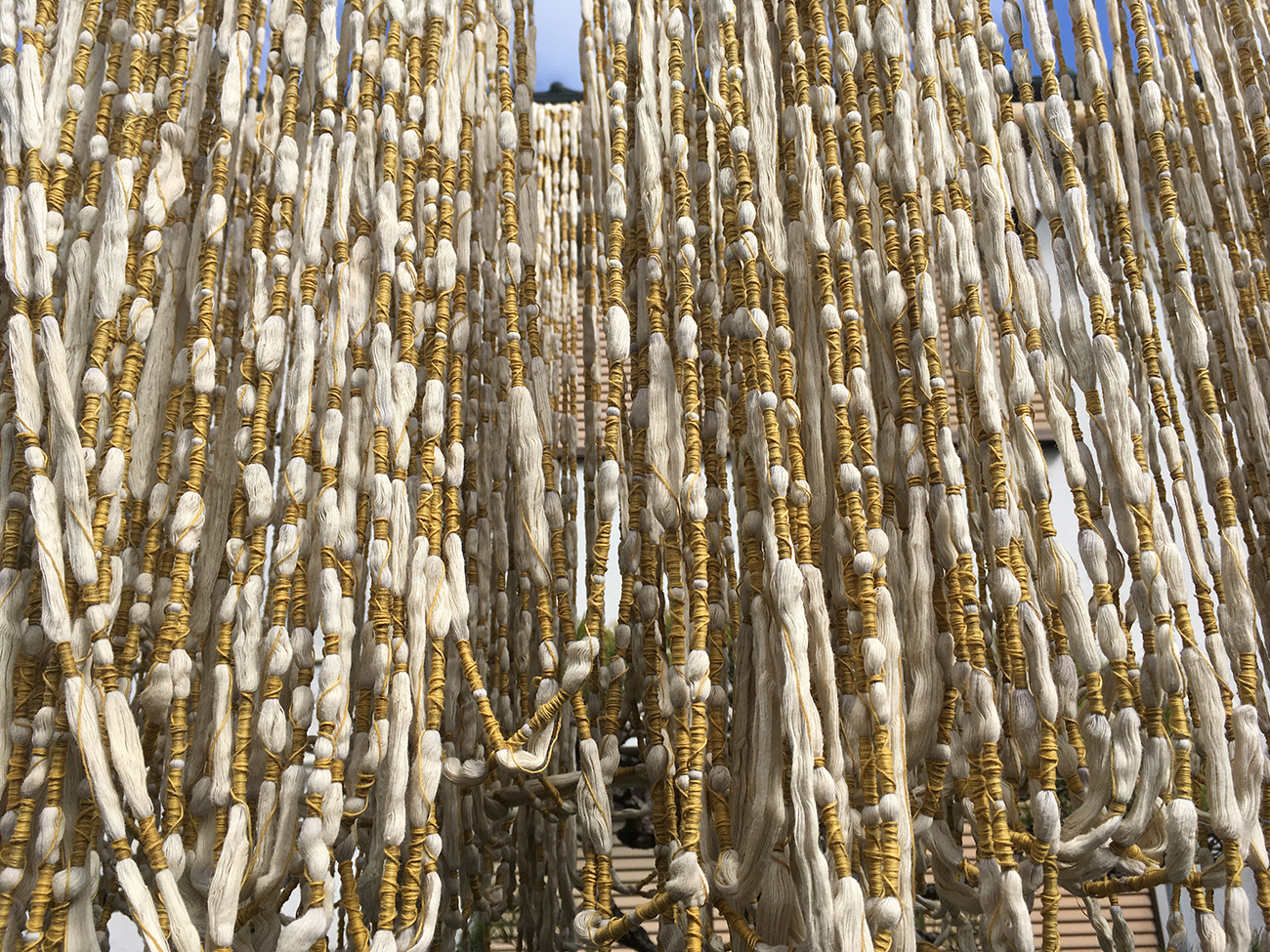 Hanging yarns at Shimogawa Orimon, in Yame
While today, thanks to digital printing techniques, it is possible to realise (or copy) graphics easily and quickly on any medium, the labour-intensive and time-consuming production of Kasuri may seem obsolete in the eyes of many. Some people may not understand why a Kasuri production district still exists on a semi-industrial scale nowadays, as it has been since the early 19th century. But what if Kasuri was seen as an example of a resilient and empowering production technique?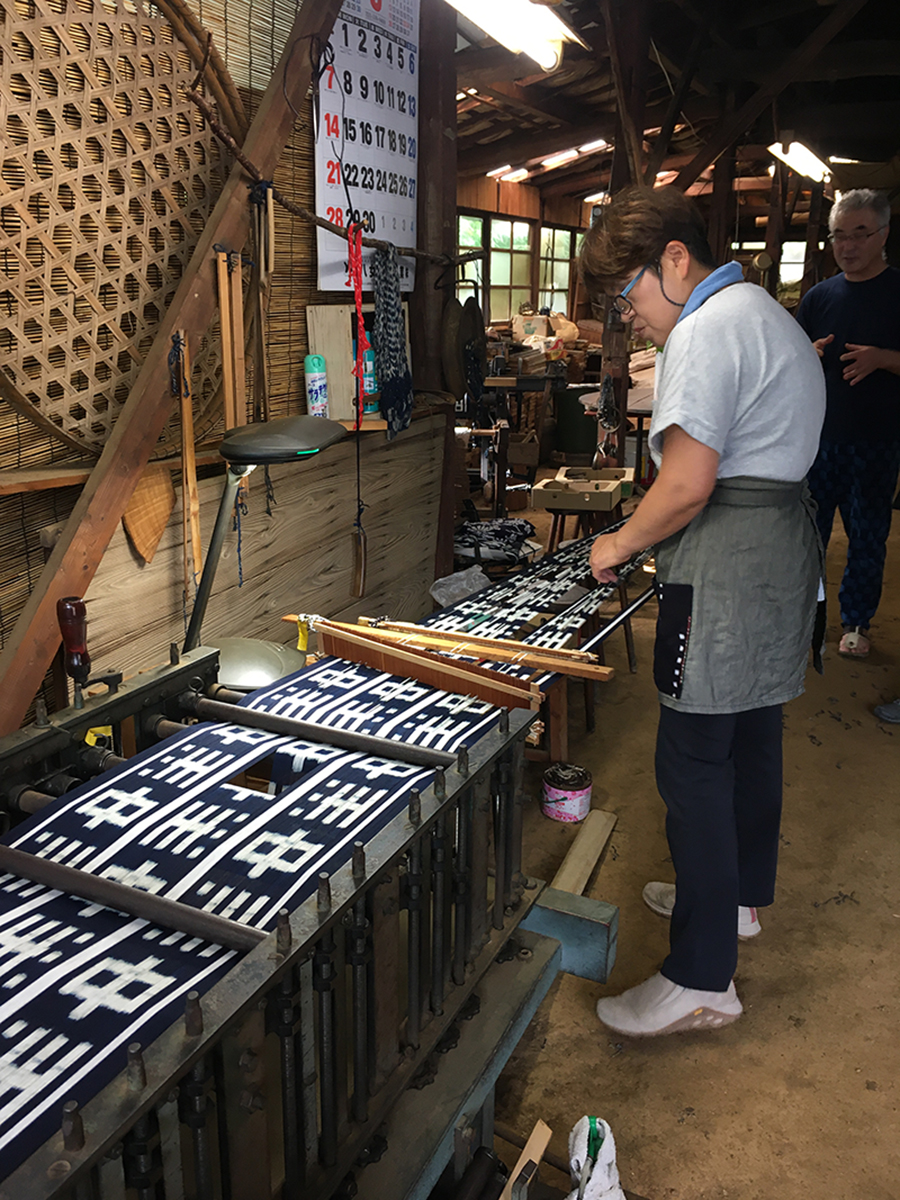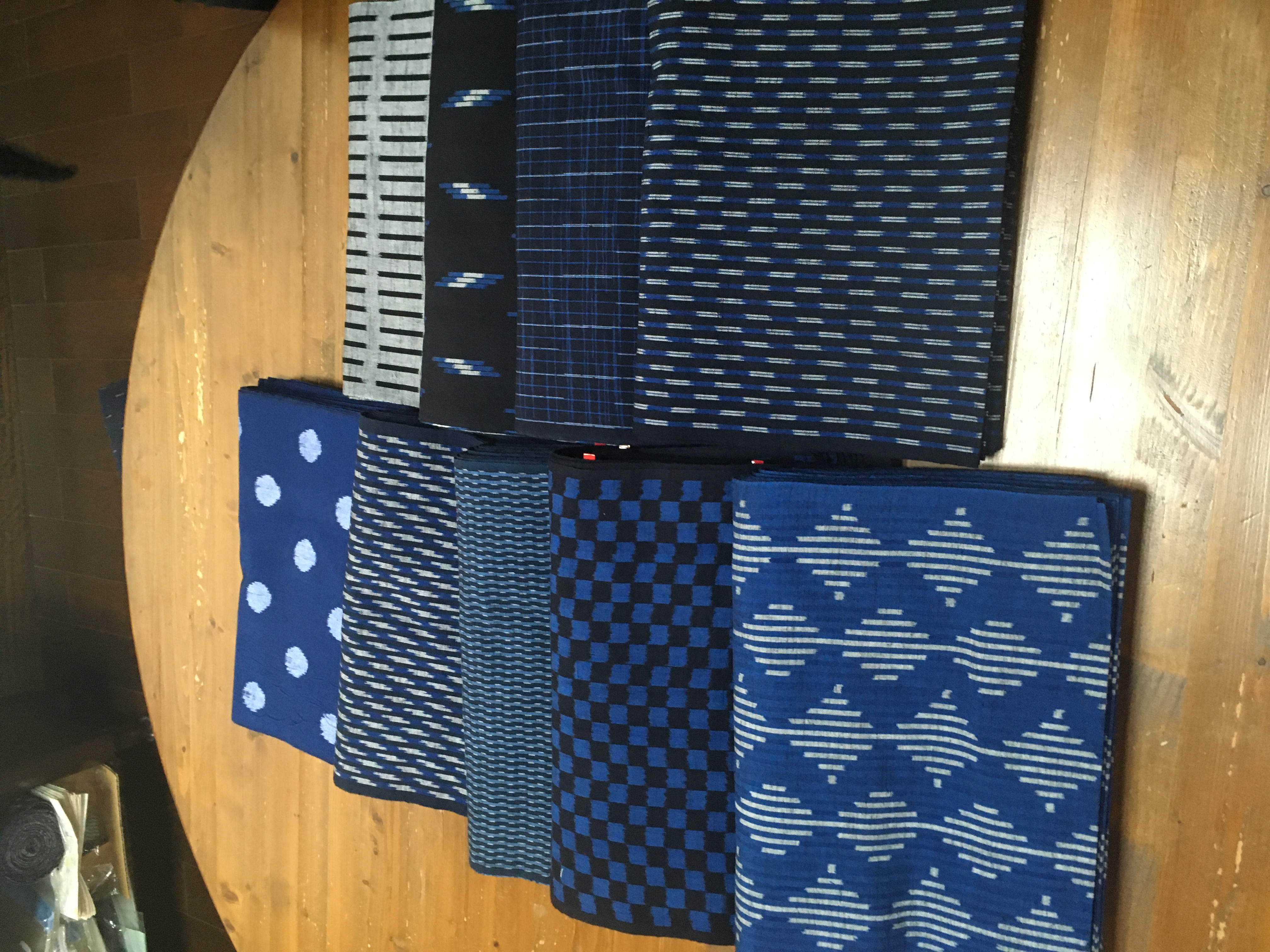 Left: Inside atelier Yamamura Takeshi, an artisan adjusts the pattern which has created by tie-dyed technique on the weft yarns before weaving.

Right: A collection of Kasuri fabrics at Nomura Orimono

The successful marriage between craftsmanship and industrialisation ensures, in fact, a selling price of Kasuri nearly ten times lower than if it were an exclusively artisanal production! This means that a wider audience can have access to it without compromising on the quality of the final product. Instead of 100% industrialised, rapid and alienating production methods, Kasuri offers a new future that does not deny industrialisation nor manual know-how. One that is more respectful and seeks a sustainable balance.

This is what, I believe, appeals to the young generation of designers who keep imagining new possibilities for these textiles embodying slowness, wisdom and resilience: qualities that we must cultivate on a daily basis.