"I want to take the artisanal know-how of Hirokawa on a journey and introduce it to an international audience"
A conversation with textile designer Aki Watanuki about the origins of her research project, Bon Voyage
Interview by Drouet Lacrouts

Born in Iwaté (Japan), Aki Watanuki is a textile designer and weaver. In this short conversation, we try to discover more about her background and her vision for
Bon Voyage
, the research project and residency programme that she launched in January 2020 in the Japanese town of
Hirokawa
.
DL: What made you interested in textile design?
AW: I started being interested in printed textiles around 2008. Although it was quite natural for me as I was doing oil painting and sewing at the university, it wasn't until I discovered the printed fabrics - with colourful and daring patterns - by Japanese textile designer Katsuji Wakisaka at the Joshibi Museum in Kanagawa, Japan, that I realised how much textile moved and stimulated me. Soon after, in 2009, I got a scholarship to study abroad and I chose to go to Finland, where I studied textile design at the Lapland University of Rovaniemi. Then, a year later, I started the Master in Textile Design at ENSCI Les Ateliers, in Paris (France).
Work samples from the portfolio of Aki Watanuki
DL: After 8 years in Europe during which you worked as a freelance designer for textile design studios and manufacturers - such as Texmoda, Lanificio Bisentino, Procés Chénel and HARU - you are back in Japan. Why this choice?
AW: By participating in exhibitions like Première Vision in Paris, I felt that my printed design work was becoming too commercial. I had trouble keeping my motivation and pursuing my artistic vision. I felt like I was losing my real goal. At the same time, I had heard about the activities of the younger generations in the textile sector in Japan. So I started contacting them and visiting manufacturers. This is how I discovered that there are still many active textile districts in Japan. I was particularly drawn to small and medium-scale producers and artisans whose history is rooted in a particular region, with its traditions and know-how.

Despite the difficulties (especially financial) that they face nowadays, the people I met remain very enthusiastic, sincere and open in trying to keep their profession alive and pass it on to the next generation. I wanted to be part of this Japanese textile industry and find my place there. My research not only allowed me to better understand the Japanese textile industry but it enabled me to also start a residency in the city of Hirokawa (in the southern part of the Fukuoka prefecture) - the centre of the production district of Kurume Kasuri, a Japanese Ikat fabric that brings together traditional and industrial techniques.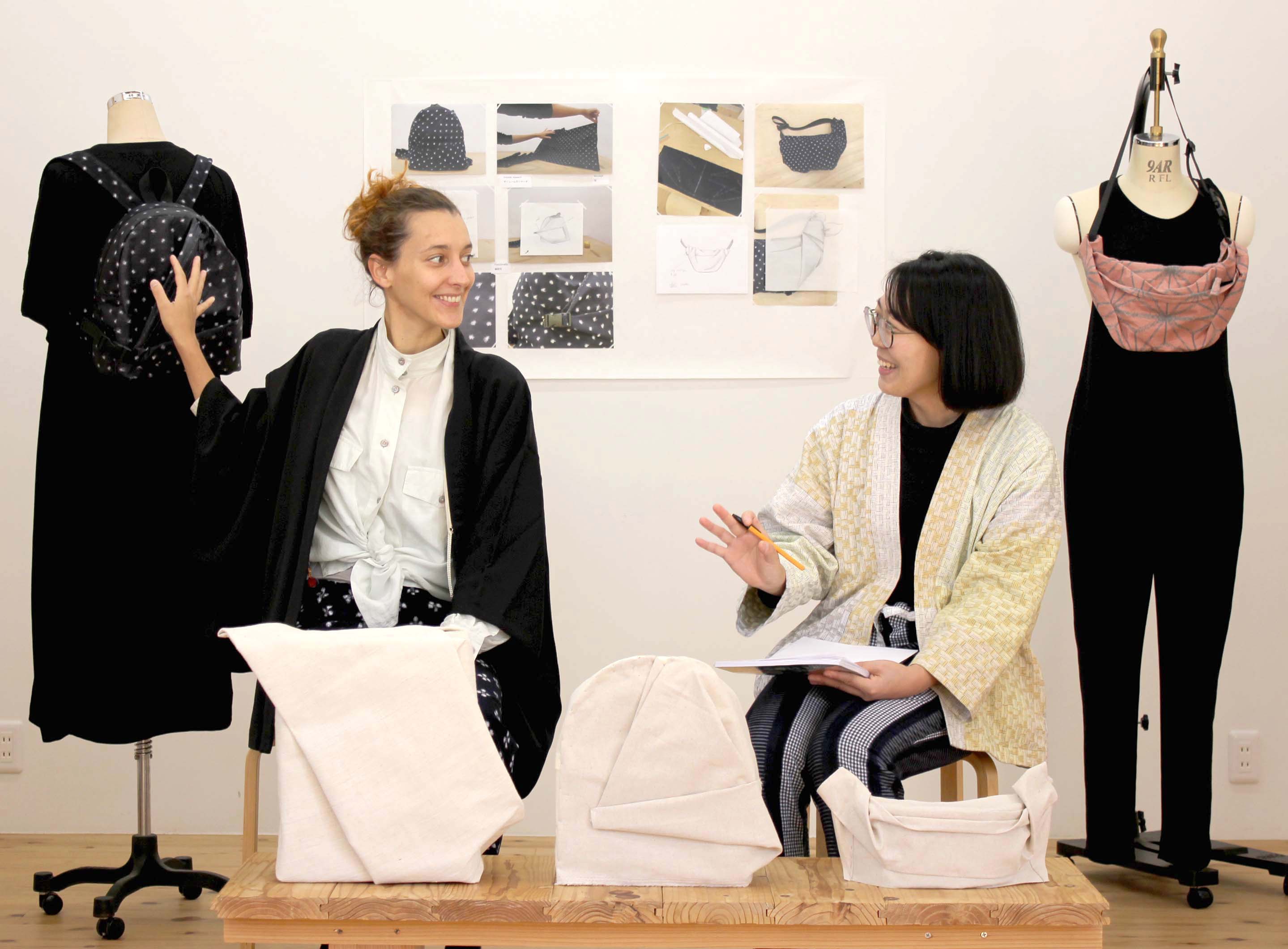 DL: How has your experience of migration and cultural exchange enriched and defined your current approach as a textile designer? What did you bring back to Japan from your European adventure?
AW: During my migrations and travels in Europe and beyond, I learnt a lot. About myself, but also about the importance of working to better live the present and the future (and not of living to work) and about the need to take root in a given environment in order to create: objects become more meaningful when they belong to a context. They are imbued with the culture of the place where they were born. They tell the stories of our ancestors and the environment of yesteryear, especially as their use continues in contemporary daily life. The Kurume Kasuri - which has a history of over 200 years - is a very good example in that sense.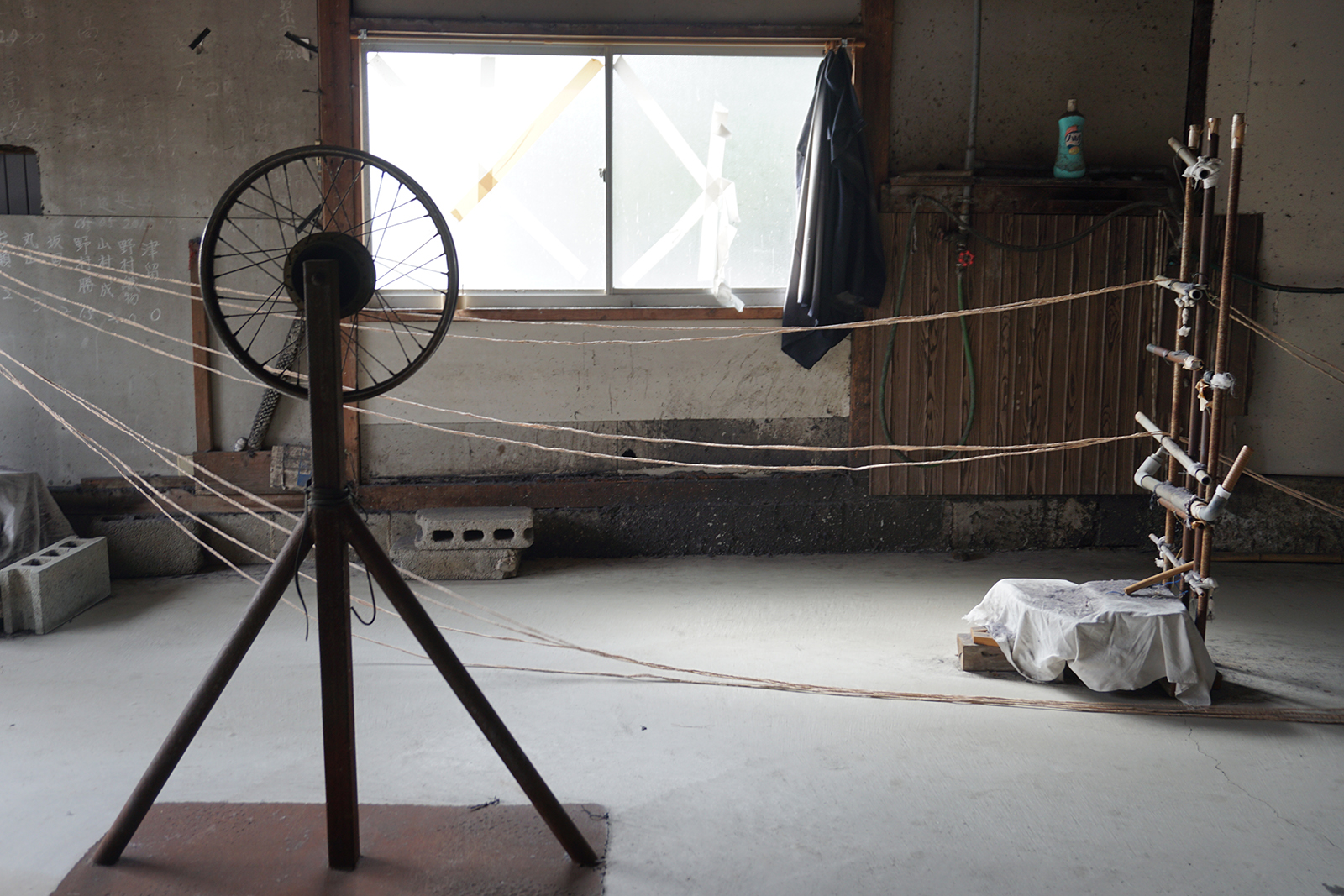 The interior of one of the many traditional ateliers in Hirokawa
DL: It has been over a year since you moved to Hirokawa. What are the aspects that continue to inspire and surprise you in your daily life?
AW: The richness of the local craftsmanship that uses natural materials produced locally. This diversity encourages me to reflect in particular on contemporary modes of consumption and distribution of products, which are generally centred on profit and efficiency and tend to forget the long term. It also makes me wonder about the value of creation and the fact that the transmission of stories and traditions requires time and work. And finally, it makes me realise the impact of human activity and the necessary quest for a 'balance' with the natural environment.

An aspect that keeps surprising me in Hirokawa is the little differentiation between inhabited areas and workplaces (small factories, workshops, cultivated fields, etc.): many manufacturers work in what would normally be defined as residential areas. Inhabitants and producers coexist while respecting each other: everyone takes care not to make noise, not to contaminate the water, etc. I find this context especially interesting for children and independent designers like me! I can visit neighbouring manufacturers on a daily basis, chat with them and learn constantly.

Making of a Kirume Kasuri textile in a traditional workshop of Hirokawa
DL: Tell us about Bon Voyage. Why did you choose this name?

AW: The word
voyager
(to travel, in French) supposes both
to move
and
to appreciate the locality
. These two aspects are important and part of my desire to communicate with both people and places.
With
Bon Voyage
, I want to take the culture of Hirokawa and its surroundings on a journey and introduce it to a larger audience. First virtually, through this website and the Instagram account dedicated to the project, then in a tangible way through a small shop.
Bon Voyage
is also an opportunity for me to collaborate with international designers and artists. Between October and November 2020, for instance, I welcomed
Clémentine Sandner
- a French designer based in Japan and founder of the brand Mikan Bags - for a residency during which she developed a new collection of bodybags using local textiles.
DL: Your explorations take the form of collaborations with artisans and local companies with whom you develop prototypes and collections of objects. What is the goal of your project in the long term and what kind of results do you hope to achieve?
AW: My research and explorations of the region encourage me to develop an archive of local know-how to better promote it and pass it on to future generations while learning to live with it on a daily basis. This research is also an opportunity for me to expand my personal repertoire of shapes and materials and to continue to explore new weaving techniques in order to create textile objects.

---
Drouet Lacrouts are design curators and writers Laura Drouet [FR] and Olivier Lacrouts [IT/FR].
@we_are_dots